Program, Time Table
Please enter the password on our email on Nov. 1.
Please note this email has been sent to those who has complete the payment in advance.
Program at a Glance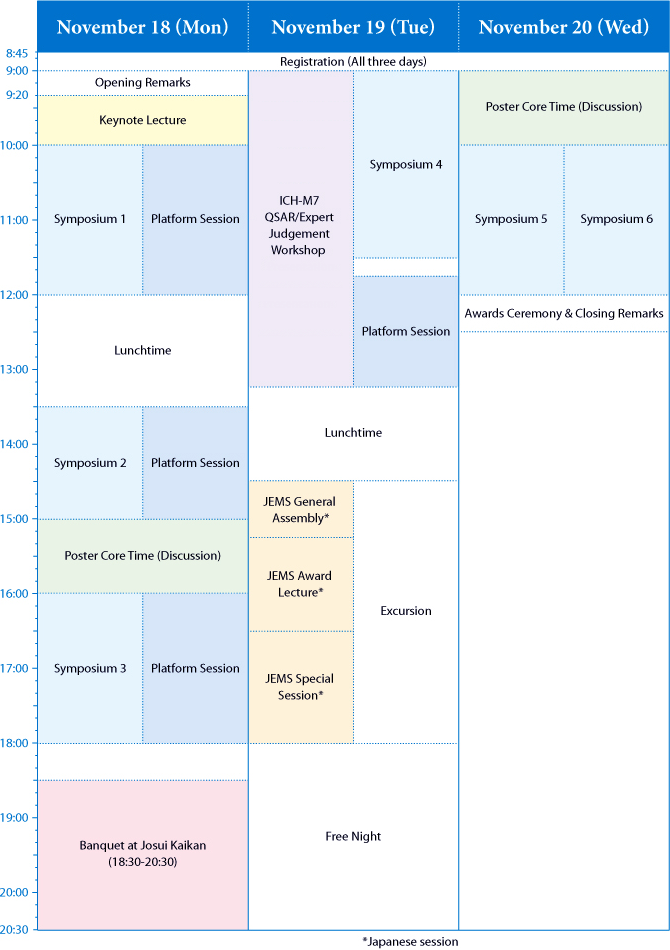 Program
Keynote Lecture
QSAR is an essential tool of integrative assessment strategies
Romualdo Benigni (Alpha-Pretox, Italy)
Symposium
Symposium 1
Genotoxicity of Aristolochic Acid and Other Plant Toxicants in Asia
What should we be concerned about carcinogenic risk of aristolochic acid in China?
Yang Luan (Shanghai Jiao Tong University School of Medicine, China)
How big is the problem of aristolochic acid?
Steven G. Rozen (Duke-NUS Medical School, Singapore)
Genotoxicity of pyrrolizidine alkaloids in plants
Nan Mei (National Center for Toxicological Research (NCTR), USA)
Genotoxicity of alkoxybenzene compounds in plants
Yuji Ishii (National Institute of Health Sciences, Japan)
Genotoxicity evaluation of the flavoring Ingredient, perillaldehyde, used in regulatory safety assessments
Cheryl Hobbs (Integrated Laboratory Systems, Inc., USA)
Symposium 2
Unravelling of Cancer in Asia by Using Genomics and Adductomics Approach
Detection of DNA adducts in human tissues, challenges and solutions
Haruhiko Sugimura (Hamamatsu Medical School of Medicine, Japan)
Exploration of esophageal cancer etiology using DNA adductome analysis
Yukari Totsuka (National Cancer Center Research Institute, Japan)
Multi-omics analysis of esophageal squamous cell carcinoma reveals alcohol drinking-related mutation signature and genomic alterations mediating interactions in tumor ecosystem
Chen Wu (National Cancer Center/Cancer Hospital, Chinese Academy of Medical Sciences & Peking Union Medical College, China)
Mutational signatures in cancer epidemiology: the example of aflatoxin
Steven G. Rozen (Duke-NUS Medical School, Singapore)
Pan-cancer mutational fingerprints of acrylamide: hiding in plain sight
Jiri Zavadil (World Health Organization, France)
Symposium 3
What is the Problem Now in Environmental Mutagen Research in Asia?
Sunlight: Australia's Most Harmful Environmental Mutagen
Terrence Piva (RMIT University, Australia)
Protection of Skin from Harmful UV with Thai Food and Feed Crops
Malyn Ungsurungsie (Silpakorn University, Thailand)
Applications of Genomics in Health and Agriculture Research: The Philippine Experience
Amelia Guevara (University of the Philippines, The Philippines)
Application of Cell-based Model for Cancer Risk Assessment of PM2.5 Exposure in Three Megacities, China
Wen Chen (Sun Yat-sen University, China)
Organ Toxicity and Endocrine Disrupting Effects of Genetically Modified Foods
Sepideh Arbabi Bidgoli (Islamic Azad -University, Medical Sciences, Iran)
Integration of epidemiology and Biology towards developing biomarkers: Current solutions to environmental mutagenesis and carcinogenesis (tentative)
Birajalaxmi Das (Bhabha Atomic Research Centre, India)
A New Generation of Environmental Medicine: Toxicogenomic Approach for Predicting the Potential Biomarkers of Environmental Disease in Respiratory System
Young Rok Seo (Dongguk University, Korea)
The Future of "Genes and Environment", in Academia: A Focus on Our Journal and Research
Masami Yamada (National Defense Academy, Japan)
Symposium 4
Exposure and Health Risk of Air Pollutants in Asia
Recent Trends in Air Pollution Caused by Polycyclic Aromatic Hydrocarbons and Nitropolycyclic Aromatic Hydrocarbons in Japan
Kazuichi Hayakawa (Kanazawa University, Japan)
Changes in the Sources and Chemical compositions of ambient PM2.5 in the process of Air quality improvement in China
Min Hu (Peking University, China)
Ambient air pollution and population health in China
Haidong Kan (Fudan University, China)
Air Pollution and its Impact on Human Health
Beerappa Ravichandran (Regional Occupational Health Centre(S), India)
In vivo mutagenicity of airborne particles collected in urban area
Yasunobu Aoki (National Institute for Environmental Studies, Japan)
Symposium 5
Molecular Mechanisms of Genome Mutation
DNA polymerase theta is a key influencer of unique cancer mutational signatures
Keiichi Takata (Ulsan National Institute of Science and Technology, Korea)
Identification of a novel genome instability disorder caused by loss of genotoxin removal not by DNA repair deficiency
Minoru Takata (Kyoto University, Japan)
The role of the XPA scaffold protein in nucleotide excision repair of environmental DNA damage
Orlando D Schärer (Center for Genomic Integrity, Institute for Basic Science, Korea)
Cancer patient-derived mutations in SLX4 revealed its new functions in the maintenance of genome stability
Arato Takedachi (Fukuoka University, Japan)
Manipulation of genomic mutation using genome-editing technology
Keiichiro Suzuki (Osaka University, Japan)
Symposium 6
Risk Assessment of Low-Dose Irradiation
-Current Situation in Fukushima and Other Asian Cities-
De novo germline mutations and their phenotypic effects on future generations
Arikuni Uchimura (Radiation Effects Research Foundation, Japan)
The Fukushima Daiichi Nuclear Power Plant Accident: What affected animals told and would tell us
Manabu Fukumoto (RIKEN, Japan)
Risk assessment of existing exposure situations due to low dose and low dose rate ionizing radiation in human population: A challenging task for radiation protection science
Birajalaxmi Das (Bhabha Atomic Research Centre, India)
Thyroid ultrasound examinations for children in Fukushima prefecture after the nuclear accident
Tomotaka Sobue (Osaka University, Japan)
Workshop (Simultaneous interpretation between English and Japanese)
ICH-M7 QSAR/Expert Judgement Workshop - iGenotox Challenge Prediction –
Part I:QSAR prediction and expert judgment for Ames mutagenicity
Ames/QSAR International Challenge Project
Masamitsu Honma (National Institute of Health Sciences, Japan)
Actions of PhiAS-Contract research and consultation support of ICH M7/QSAR for pharmaceutical companies-
Tsukasa Kikuno (PhiAS, Japan)
Overview of expert judgments with 20 substances
Masayuki Mishima (Chugai Pharmaceuticals, Japan)
Undertaking expert review under the ICH M7 guidelines
Chris Barber (Lhasa Limited, UK)
Effective expert review strategy for ICH M7 assessments
Roustem Saiakhov (MultiCASE Inc., USA)
Handling out-of-domain and indeterminate results as part of ICH M7 recommended (Q)SAR analyses. A Leadscope perspective
Manuela Pavan (Innovatune, Italy)
Combining evidence within and beyond the confines of (Q)SAR to predict mutagenicity.
Chihae Yang (Molecular Networks, Germany)
Part II:Control of impurities in pharmaceuticals by purge factor
Introduction
Junichi Fukuchi (Pharmaceuticals and Medical Device Agency, Japan)
Control strategy for potential mutagenic impurities in the synthesis of drug substance, Sakuramil mock case study
Yusuke Nagato (FUJIFILM, Japan)
Case study, use of purge factor to evaluate regulatory starting material
Hiroshi Iwamura (Chugai Pharmaceuticals, Japan)
Use of Mirabilis based purge calculations to understand MI related risk and control strategy options – case study examples (including management of N-Nitrosamines)
Andrew Teasdale (Astrazeneca, UK)
Special Program (Japanese session)
Where Should JEMS Go?
Platform Session
Poster Session